Program Quality News: October 9, 2012
UPDATES
Program Quality Assessments Now Available for Download
The Weikart Center's Program Quality Assessments (PQAs) have been updated and for the first time ever are available to download for free.
The Youth PQA, School-Age PQA and several extensions (STEM, Arts, Academic Climate, Health and Wellness) are designed to assess the quality of learning environments and to identify staff training needs. These are the leading quality assessments in the out-of-school time field.
The School-Age and Youth PQA revisions include minor changes to items, some regrouping of items, and a new naming convention for scales. All supporting materials for both instruments (such as handbooks, the Online Scores Reporter and trainings) will also be revised. The revisions require no new training or costs.
Previously, these instruments have been available only in print and at the cost of production. While we will still provide this delivery option, we are pleased to share these tools as PDF downloads.
Read more about the updates >>
Download the PQA >>
Online Scores Reporter Updated
The Online Scores Reporter has been updated to align with the revised 2012 Youth and School-Age Program PQA tools. In addition, the Scores Reporter offers several new features, including:
Ability to toggle between a form with or without comments

Stronger controls on External Assessment data

Standardized selections for Improvement Plans

Bulk reporting of site-level reports for Network Leaders
Read more about Scores Reporter >>
CALENDAR
Strengthening Citywide After-School Opportunities: Improving Quality Systemwide
The Forum for Youth Investment will introduce a new how-to guide for OST systems-builders that identifies the key stages and steps in building effective, sustainable and systemic approaches to quality improvement systems (QIS) for afterschool providers. This webinar will feature case studies from communities tackling the stages of cohesive QIS development.
This is the third in a free, three-part webinar series - brought to you by The Forum for Youth Investment in partnership with The Wallace Foundation, the NLC and Collaborative for Building After-School Systems - to share a new suite of tools commissioned by the foundation.
When: Oct. 11, 1 p.m. EST
Register here>>
Youth Work Management Training of Trainers
This Training of Trainers is targeted at managers and site leaders who wish to be able to support their sites throughout the quality improvement cycle. Graduates of the Management TOT can facilitate the Planning with Data and Quality Coaching workshops, as well as provide comprehensive logistical and professional development support to staff who are involved in the process.
Management TOT candidates must have successfully attended PQA Basics and Planning with Data. It is highly recommended, but not required, that candidates have successfully completed the External Assessor Reliability Training and the Quality Coaching workshop. The registration deadline is Oct. 12.
Where: Chicago, Ill., Nov. 14-6.
Find out more >>
Register here>>
Youth Work Methods Training of Trainers
Want to learn how to train your afterschool staff to increase the quality of their work? The David P. Weikart Center for Youth Program Quality is offering its Youth Work Methods Training of Trainers course. This session teaches staff how to deliver the Youth Work Methods courses, which empower direct staff with tools to increase the quality of their instruction.
Where: Seattle, Wash., Dec. 4-6.
Find out more >>
Register here>>
Lights on Afterschool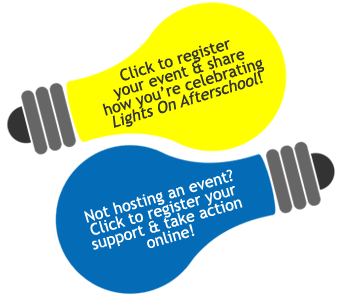 On Oct. 18, more than 1 million people will gather at some 7,500 sites across the country and at U.S. military bases worldwide to support the afterschool programs that help working families, keep kids safe and inspire them to learn. Find out more, including how to register and how to plan an event, at Lights on Afterschool.
Read more >>
NEW FACES AT WEIKART
Terri D. Slaughter, Managing Director
Terri organizes the Weikart Center's work around a continuous improvement cycle, and provides staff development and facilities management support.
Terri has made a career of improving the lives of young people in underserved communities. She founded the Metro Achievement Connection, an education support model that combines experiential out-of-class learning opportunities with proven mentoring strategies. At the United Negro College Fund, she served as interim director and senior relationship manager of both Academic Empowerment and Alumni for the Gates Millennium Scholars Program division. Before that, she enjoyed a more than 10-year career in higher education administration.
Read more >>
Laenne Thompson, Senior Manager of Systems
Laenne manages a portfolio of quality improvement systems in cities and states throughout the country, and contributes to product development.
Laenne brings experience in fundraising and grant-writing, print and electronic communications, management, and event planning and workshop facilitation. She previously worked as a field consultant on Weikart projects in Washington and Alaska. At HighScope Educational Research Foundation's Youth Development Group, she co-developed the Weikart Center's Youth Work Methods workshops and coordinated the validation study of the Youth PQA.
Read more >>
Paul LaMacchia, Program Technology Assistant
Paul supports and oversees our online systems, including creating and maintaining accounts for online courses, providing technical assistance to clients using online systems and improving the user experience of our online supports.
Paul has a Master of Science degree in Finance and managed electronic records and data for Dexter Community Schools. He has a long-standing connection to youth work through Delta Township Parks and Recreation (in Michigan), where he managed staff and programs as a youth recreation supervisor.
Read more >>
10/9/2012
Publisher: David P. Weikart Center for Youth Program Quality